Posted on
By Nathan Hutsenpiller
Go Skateboarding Day
June 21st, 2017

--------------------------------------

KCDC Sponsored Long Ollie Contest at LES.
NIKE Blazers Custom Paint by Dylan
Art Show/Party at KCDC Skateshop to end the night.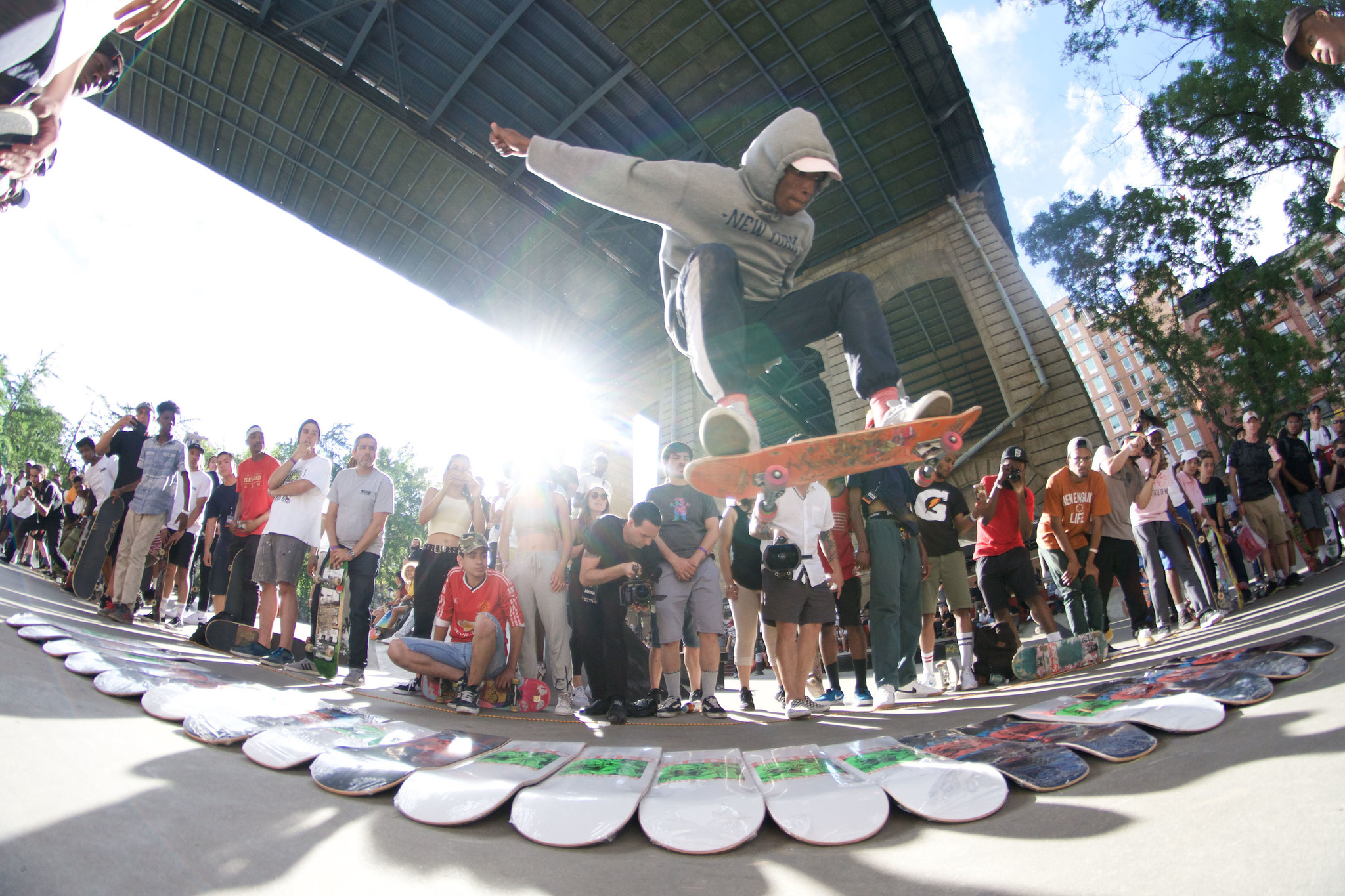 Words and photos by Nathan Hutsenpiller (@natewastaken)
Go Skateboarding Day this year was another one for the books. We started out our day early this year with SHUT NYC at American Playground in Greenpoint, Brooklyn for LIFE VALET'S first annual "Adult Learn to Skateboard Day". Lessons were provided by SURE Skateboards and some local NYC skaters from 8am to 11:30am. We took over the basketball courts and had a nice flat ground session to get warmed up for the day.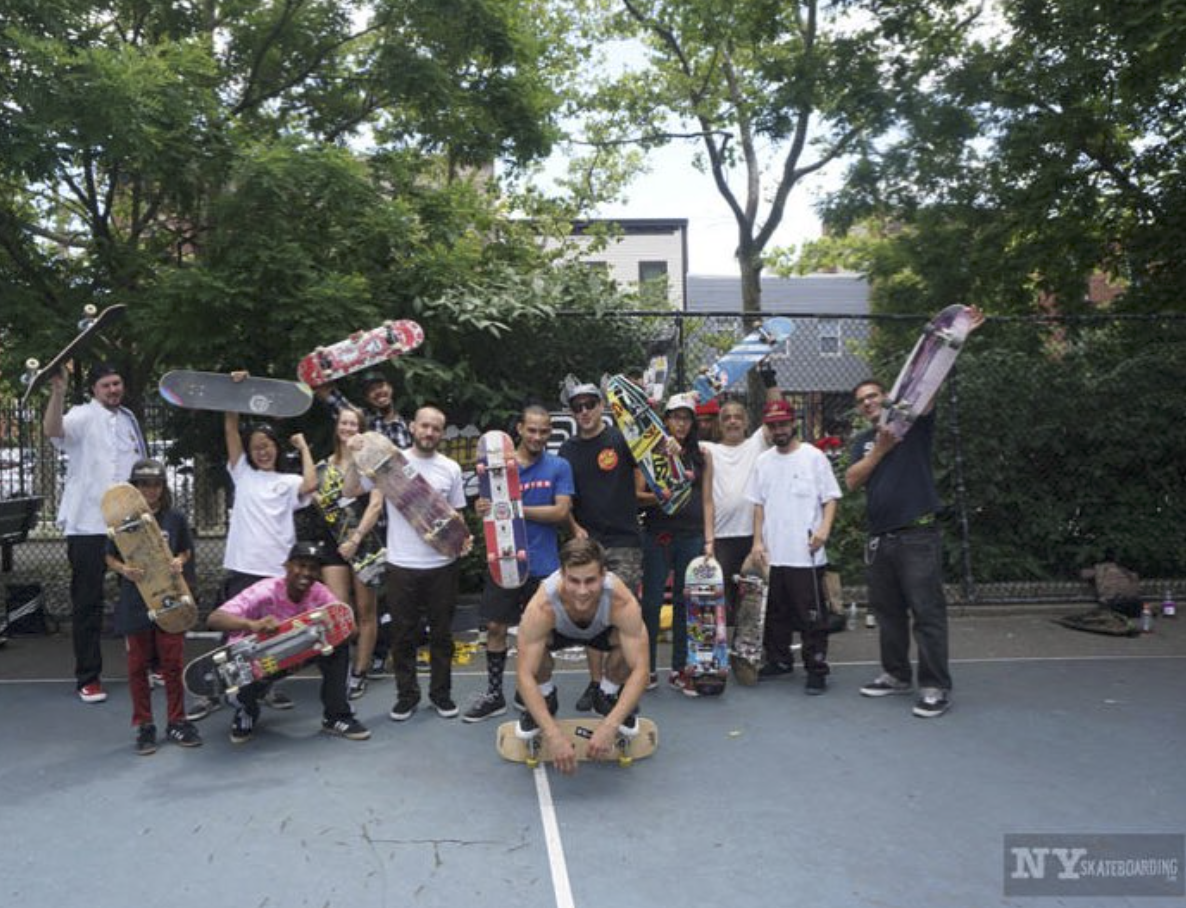 Nike SB kindly invested some money into the LES Coleman Skatepark, adding a couple new "enhancements" just in time for the contest. Tons of kids showed up and there were some heavy hitting pros there including Alex Olson, Tommy Sandoval, Jaws, Antonio Durao, Brian Anderson and Lacey Baker! Sizzle Pie was on the scene with fresh pizza for the masses and Steve Rodriguez MC'd the event, killing it as usual!
The event consisted of two best trick contests, a high ollie contest and a long ollie contest. We sponsored the long ollie contest and it, along with everything else that went down, couldn't have been more epic! We brought over 20 decks and started laying them side by side on the ground, starting with 5 and eventually reaching 20 in a row. Only one man could handle this long of a huck and Shawn Butler (@nycshawn) was just that man! Big ups for the day Shawn!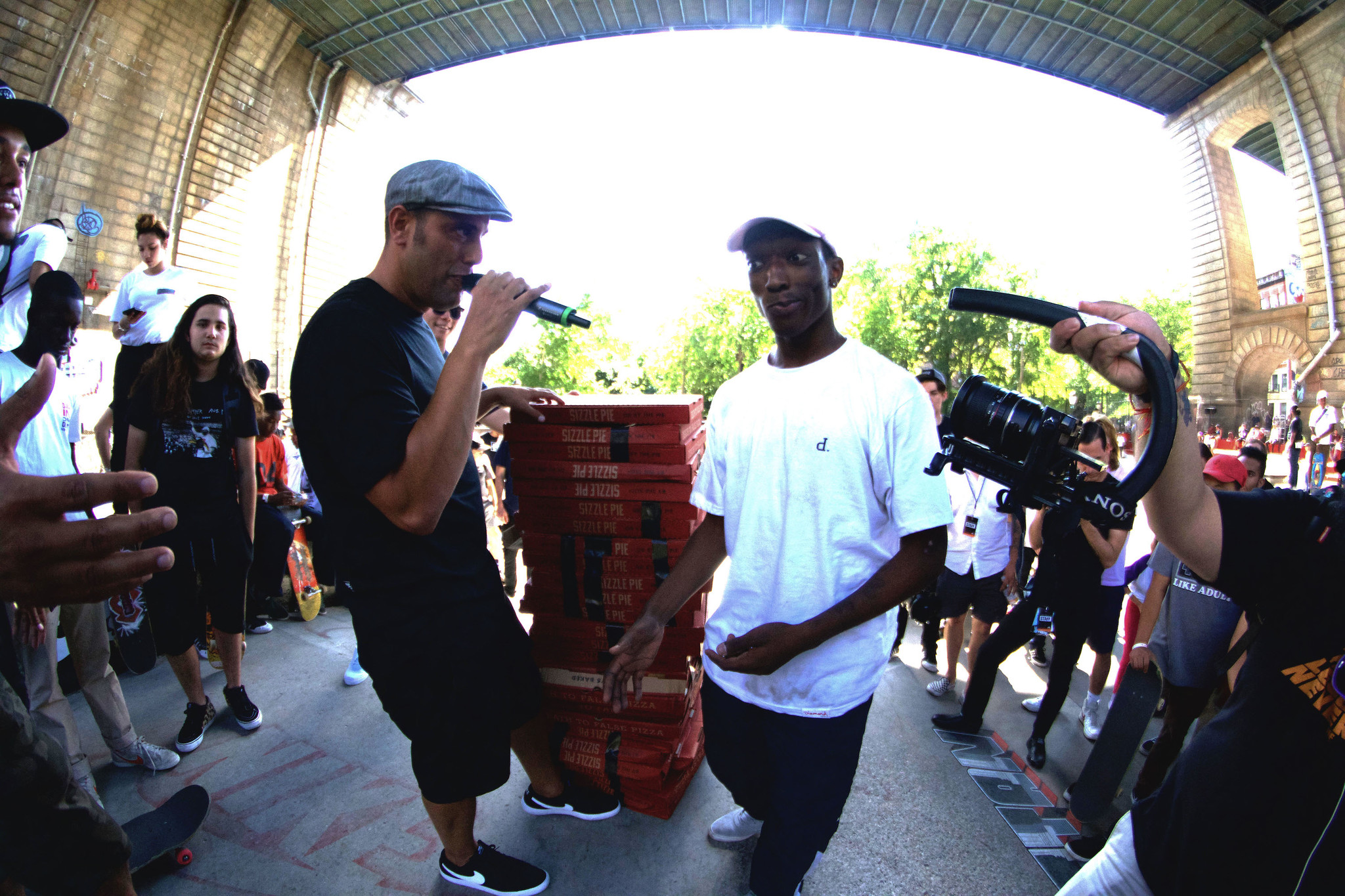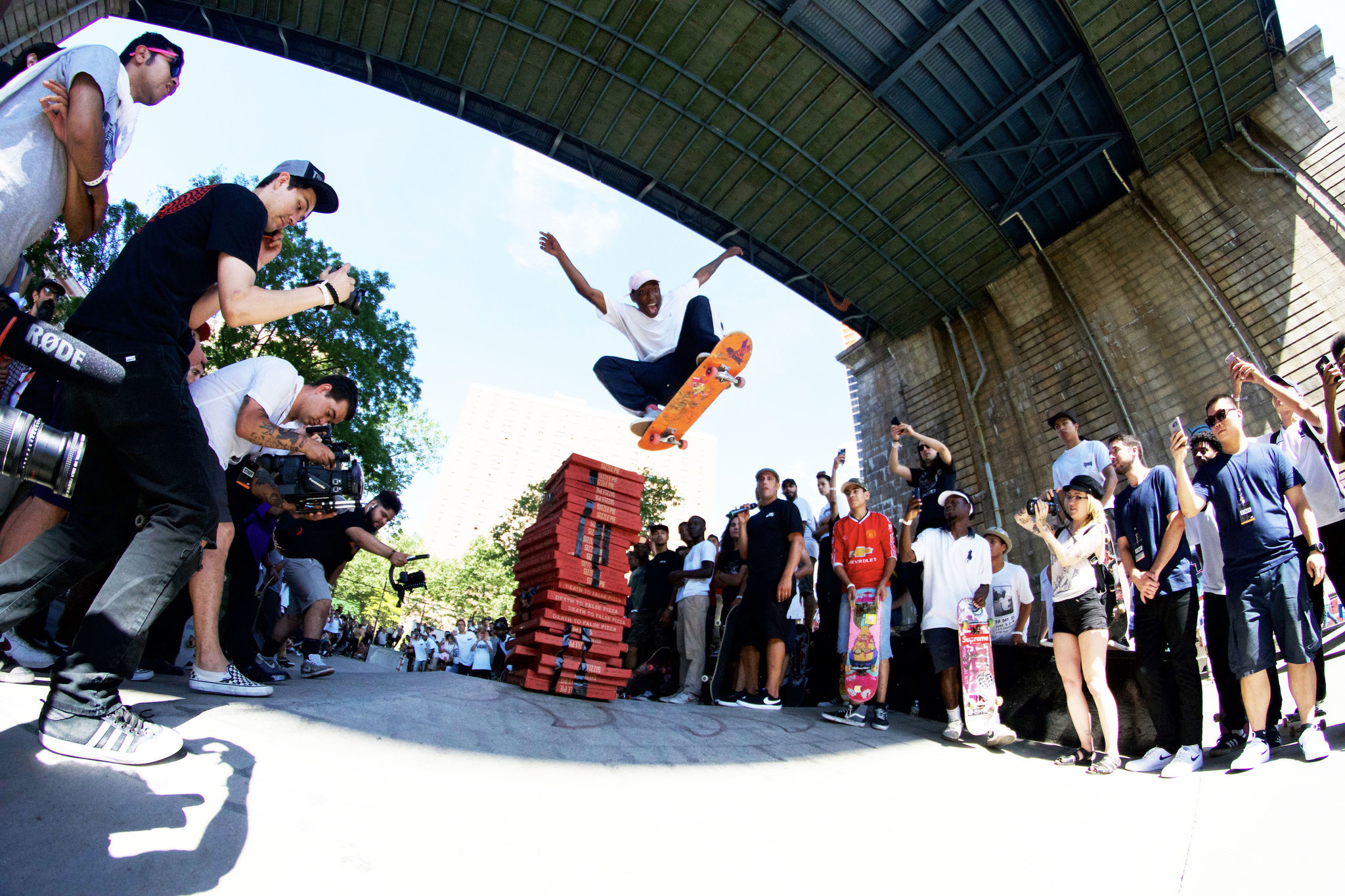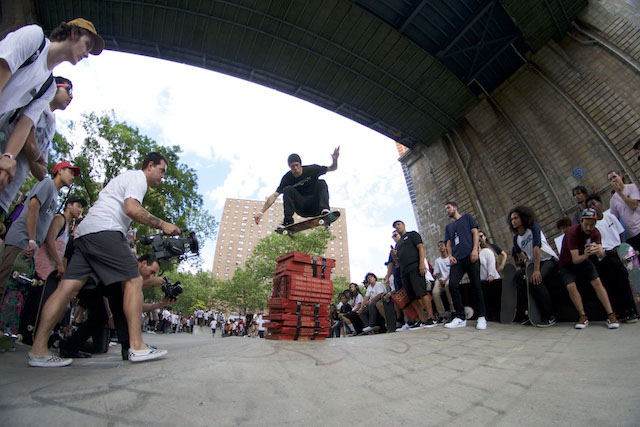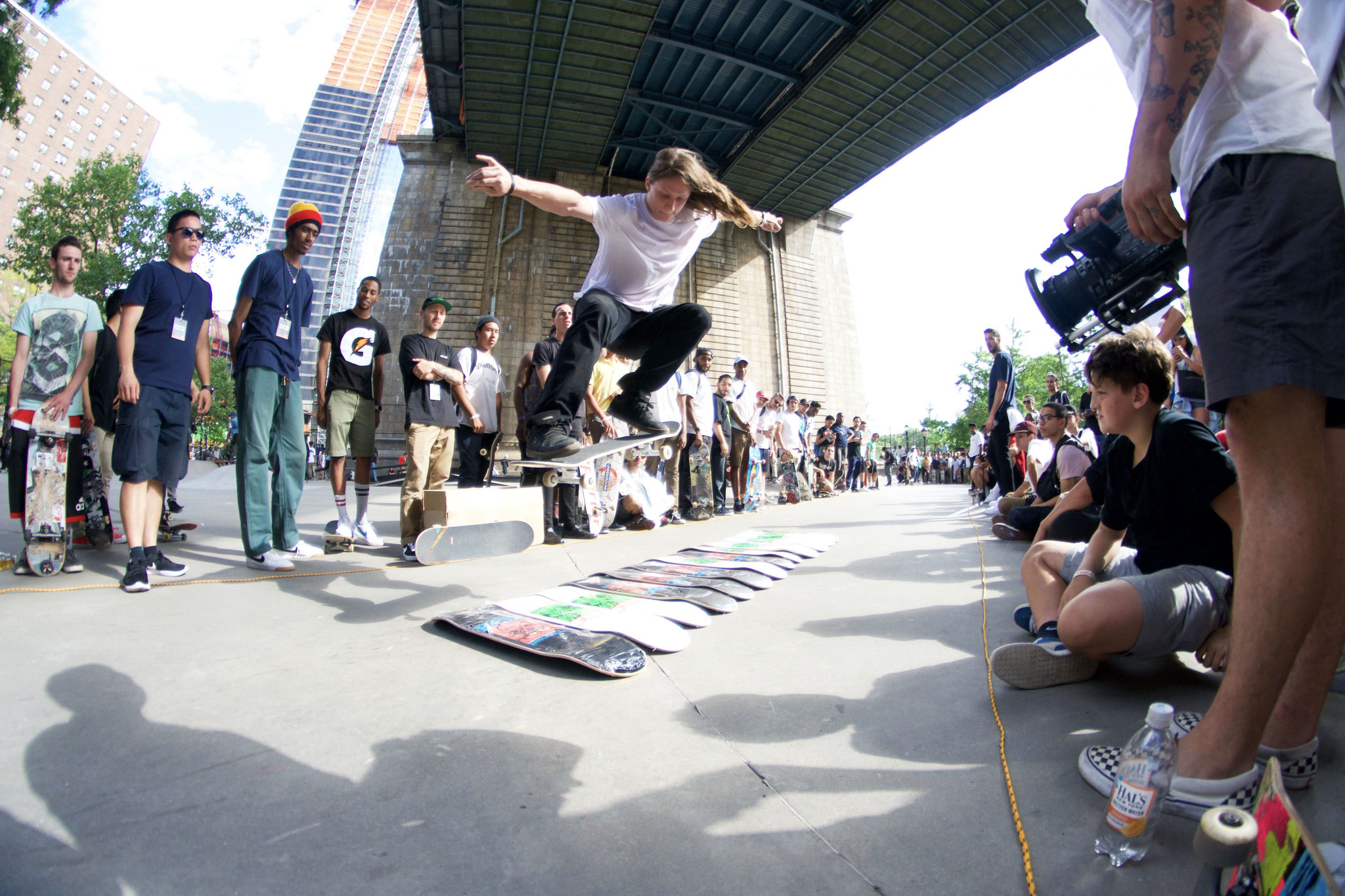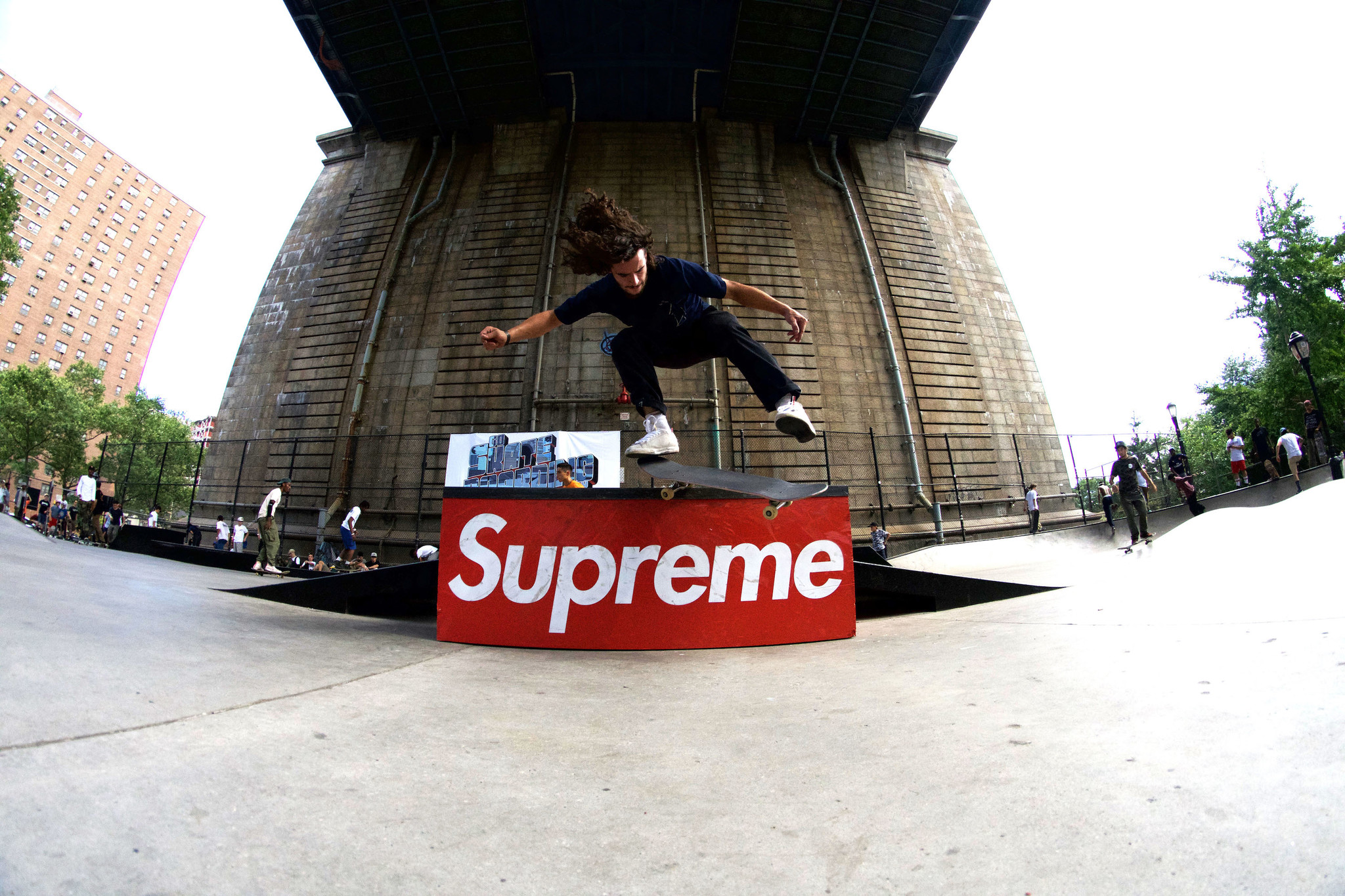 CUSTOM NIKE BLAZER MIDS
by Dylan Goldberger for KCDC Skateshop
NIKE had some shops/skate media from NY customize their own pair of white Nike Blazer Mids and we could think of no better person to put on the job than our friend, Dylan Goldberger. He has been a long time friend of the shop and we have collaborated with him many times so it just seemed like the best fit. See more of Dylan's work here: instagram.com/dylanjg
----------------------------------------------------------------------------------------------------------------------
We capped out the day with an art show at the shop after hours. Some photos were hung up along side our friend Koji Yamaguchi, who hung up his original artwork as well as a few collaboration pieces with shop employee Nathan Hutsenpiller. About half way through the party, when everyone was getting good and drunk, Sizzle Pie showed up with pizza and the place went nuts! Couldn't have been a more memorable moment!
Thank you to everyone who came out and showed support. We do this all for you! Thank you Sizzle Pie for all the pizza! Big thanks to Steve Rodriguez and Nike SB for yet another great event. Stay tuned for future events and parties!
LINKS: